Can


Verapamil


Straighten Your
Bent Penis?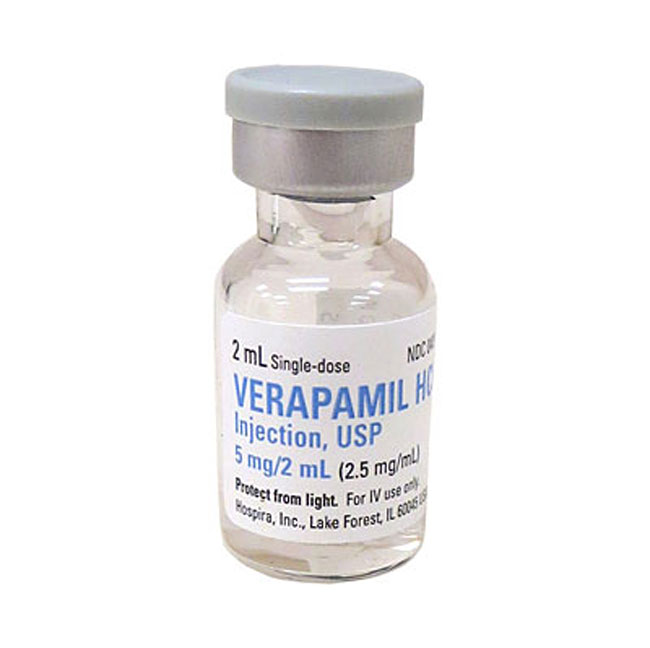 Verapamil is yet another of the injectables being tried for Peyronies disease straightening. It has been shown to be mildly effective in treating Peyronies Disease, or a bent penis, caused by plaque or scar tissue.


It will not straighten or fix a bent penis


It is not FDA approved for Peyronies Disease


For effective straightening you will either need to use penile traction, surgery, or Xiaflex®.(collagenase clostridium histolyticum) injections. The only three medically endorsed methods proven to work.

Verapamil has been shown to effectively eliminate the pain that occurs during erection. It does this by softening the scar or plaque that causes the penis to bend.
The studies show varying results. But all of them seem to conclude that Verapamil is most effective in men whose erection does not curve more than 30 degrees.
"Verapamil is one of the most popular treatments, its injected directly into the plaque built up in the penis. Although it helps to soften this plaque in hopes of breaking it down – it's just not strong enough to effectively treat anything but the mildest beginning cases."

reference: Historical Treatments for Peyronie's Disease
Morganstern Medical
https://morganstern.com/peyronies-disease/treatments-options/
From
Dr. Nelsom Bennett, MD


In a report (http://www.smsna.org/neworleans2015/presentations/002A.pdf) from Dr. Nelson Bennett, MD, a board-certified urologist and microsurgeon who specializes in the management of erectile dysfunction, Peyronie's disease, disorders of ejaculation and orgasm, Vasectomy, penile prosthesis implantation and microsurgical varicocele repair, he had this to report about Verapamil injections for PD :

"Verapamil for Peyronies Disease: Not Viable"

"No significant difference in curvature reduction."
It's Original Use


Verapamil is a calcium channel blocker originally developed for use in certain heart patients.
The amount of this drug that would be needed to be taken orally for a Peyronies condition is 50 to 100 times the safe level. So, rather, it is injected directly into the scar or plaque.
Normally an injection is given every two weeks for a period of 12 weeks.



Verapamil injections are expensive. 
And, you still do not get a straight erection as a result.



If you straighten your erection with correct penile traction you can get straightened out 99.99% of the time and the pain during erection is also eliminated. So what really is the point of using this drug "therapy"?
It all goes back to our belief that "drugs cure everything". They don't. Sometimes there are much better methods, like correct traction. And correct traction is so good that it is now medically approved and endorsed in 29 countries.
The Case Studies
for Peyronies Disease
Show Poor Results


In a long-term single-blind study, Doctors J. Rehman, A. Benet, and A. Melman reported on patients given weekly injections for six months.
They noted a small decrease in curvature in 28% of patients receiving this drug. This was not considered statistically significant. Erectile dysfunction was improved in 43%. And 57% had a measured decrease in plaque volume.
The authors concluded that this drug was most effective in patients with noncalcified plaques and penile angulation less than 30 degrees.
Less than 30% curvature really doesn't interfere with sexual intercourse. So why bother?
They also noted that it is clear that not all patients respond.
REFERENCE:   Rehman J, Benet A, Melman A.: Use of intralesional verapamil to dissolve Peyronie's disease plaque: a long-term single-blind study. Urology 1998; 51: 620-626.
What About
Xiaflex® Injections?


Although injections are not the most effective solution, many men prefer them to surgery.
Xiaflex® is the only FDA approved injectable for treating Peyronies disease. It is more effective than Verapamil. And, it is much more expensive. About $30,000 for a full set of injections.

Xiaflex® injections are the newest injectable. Xiaflex® is the trademarked name for the drug collagenase clostridium histolyticum. BioSpecifics Technologies developed the preparation, which is manufactured and marketed by Auxilium Pharmaceuticals.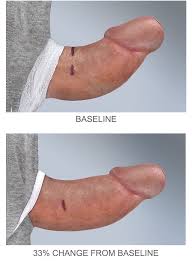 Xiaflex claims a 35% reduction in curvature for certain types of cases.
I know that doesn't sound like a lot, but, it can make a severely bent penis functional again.
Xiaflex does, however, have some serious possible side effects including corporal rupture. You can find the complete list of possible side effects at their official website Xiaflex.com.
Does Verapamil Gel
Have Any Value?


There is now a transdermal (through the skin) gel also available for topical use. It seems to be giving similar results to the injections without the invasive needle wounds (that can and sometimes do cause a new Peyronies condition later on).
The Gel is available by prescription only and is NOT FDA approved.
The makers of the Gel claim these results: -- 100 percent reported complete relief of pain -- 71.4 percent noticed some decreased curvature -- 86.5 percent had measurable improvements in plaque buildup -- 55.1 percent reported improvement of overall quality and rigidity of erection.
Verapamil Side Effects
and
Dangers
Most men experienced mild penile ecchymosis (spots of purple skin discoloration).
Side effects can also include:
Nausea


Light Headedness


Pain at the Injection Sites


Dermatitis:  including itching, burning, redness, or swelling.

Isn't that a joy?! And, you'll pay a lot for it.

There were no adverse cardiovascular events.
Warnings:  This transdermal Gel is not for everyone. Patients with specific heart conditions known as Sino-Atrial (SA) block or atrioventricular (AV) block should not use calcium channel blockers in any form. Nor should patients taking the antiarrhythmic drug Tikosyn® (Dofetilide).
Also, people taking digoxin or cyclosporine need to have their drug levels monitored on a regular basis. This drug may decrease the metabolism and clearance of the digoxin and cyclosporine.
How To Get
The Safest and Most Effective
Penis Straightening Results


If you have been reading the pages on this site, you will know that the ONLY safe, medically approved, effective way to straighten a bent penis is with correct traction.
Once the shaft is straightened by traction, the pain that was experienced during erection when erections were bent, no longer exists.
Correct traction is now endorsed and recommended by doctors
in 29 countries worldwide!
Correct traction is also non invasive (no surgery or injections) and affordable to any man. One of the best penis traction devices in the world costs under $200.
Conclusions
Once again it comes down to our own current education on health. Most of us have been taught to believe that we need a drug to fix every human physical condition. And this is just not true!
The studies clearly indicate that drugs like Verapamil, Collagenase, Interferon, Steroids, etc. etc.... are not the answer to Peyronies Disease, a bent penis of any kind, or even a curved penis.


"Simple correct penile traction
is the only method of penis straightening
that gives truly effective safe results
in correcting penile curvature of any kind."


Be Well.....
~ William
Refrences:
1. Kelly RB. Pathways of protein secretion in eukaryotes. Science 1985; 230: 25-32.
2. Levine LA, Merrick PF, Lee RC. Intralesional verapamil injection for the treatment of Peyronie's disease. J Urol 1994; 151: 1522-1524.
3. International Journal of Impotence Research (2002) 14, 324-328. doi:10.1038/sj.ijir.3900917
4. Teloken C et al. Objective evaluation of non-surgical approach for Peyronie's disease. J Urol 1996; 155: 633A, abstract 1290.
5. Rehman J, Benet A, Melman A. Use of intralesional verapamil to dissolve Peyronie's disease plaque: a long-term single-blind study. Urology 1998; 51: 620-626.
6. Askey DB et al. The effect of weak electric fields and verapamil on exocytosis in human fibroblasts. Journal of Cell Biology 1988; 107: 336a, abstract 1905.
7. Urology, June, 2007.
8. Dibenedetti DB, Nguyen D, Zografos L, Ziemiecki R, Zhou X. A population-based study of peyronie's disease: Prevalence and treatment patterns in the United States. Adv Urol 2011;2011:282503. 

9. Paulis G, Cavallini G, Barletta D, Turchi P, Vitarelli A, Fabiani A. Clinical and epidemiological characteristics of young patients with Peyronie's disease: A retrospective study. Res Rep Urol 2015;7:107-11. 

10. Devine CJ Jr., Somers KD, Jordan SG, Schlossberg SM. Proposal: Trauma as the cause of the Peyronie's lesion. J Urol 1997;157: 285-90. 

11. Gonzalez-Cadavid NF, Rajfer J. Mechanisms of disease: New insights into the cellular and molecular pathology of Peyronie's disease. Nat Clin Pract Urol 2005;2:291-7.

12. Ravanti L, Kähäri VM. Matrix metalloproteinases in wound repair (review). Int J Mol Med 2000;6:391-407.    

13. Gelbard M. Myofibroblasts and mechanotransduction: Do forces in the tunica albuginea contribute to Peyronie's disease? J Sex Med 2008;5:2974-6.

14. Rhoden EL, Riedner CE, Fuchs SC, Ribeiro EP, Halmenschlager G. A cross-sectional study for the analysis of clinical, sexual and laboratory conditions associated to Peyronie's disease. J Sex Med 2010;7(4 Pt 1):1529-37.    

15. Pavone C, D'Amato F, Dispensa N, Torretta F, Magno C. Smoking, diabetes, blood hypertension: Possible etiologic role for Peyronie's disease? Analysis in 279 patients with a control group in Sicily. Arch Ital Urol Androl 2015;87:20-4.      

16. Berookhim BM, Choi J, Alex B, Mulhall JP. Deformity stabilization and improvement in men with untreated Peyronie's disease. BJU Int 2014;113:133-6.      

17. Paulis G, Cavallini G, Giorgio GD, Quattrocchi S, Brancato T, Alvaro R. Long-term multimodal therapy (verapamil associated with propolis, blueberry, Vitamin E and local diclofenac) on patients with Peyronie's disease (chronic inflammation of the tunica albuginea). Results of a controlled study. Inflamm Allergy Drug Targets 2013;12:403-9.