Will Potaba
Fix A Bent Penis?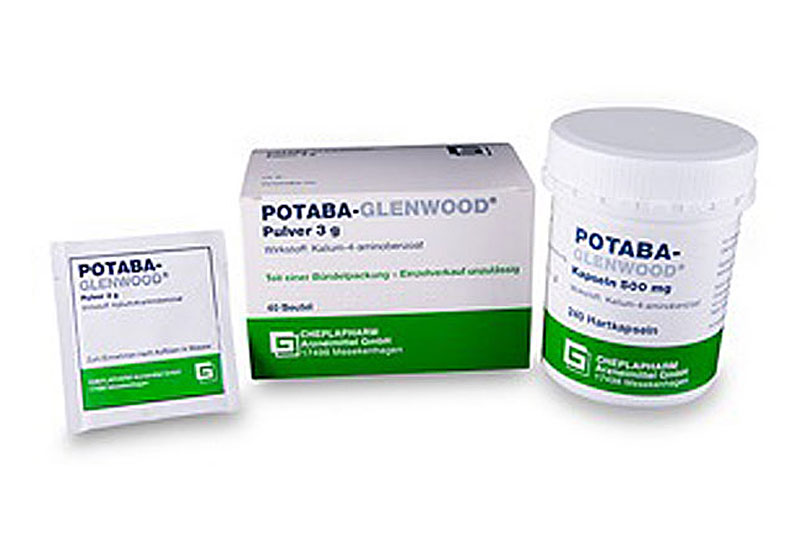 How
Potaba Works


Potaba will not give you a straight erection all by itself.

It is currently one of the favorite medical treatments for a bent penis caused by Peyronies Disease.
It is an antifibrotic (blocking or preventing tissue scarring) in the vitamin B family. It works by increasing the oxygen supply in tissues. This oxygenation helps prevent the formation of fibrous tissue.
Potaba is used for Peyronies Disease to hopefully dissolve the scar tissue that is causing the penis to bend. It is not highly effective. It is also not recommended or useful at all for a simple curved penis condition, because there is no scarring to remedy there.
Do You
Want to Know
What Potaba Really Is?


POTABA is a registered trade name for the pharmaceutically produced B Vitamin PABA (Potassium P-Aminobenzoate). P-Aminobenzoate is a member of the vitamin B complex. I believe it is classified as a prescription drug because of the very large amounts that are prescribed.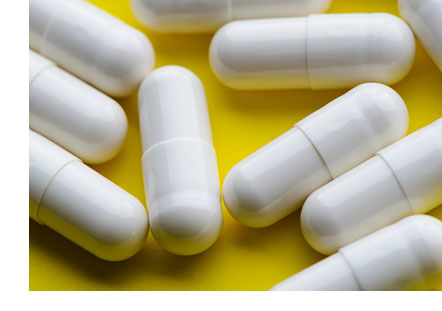 The Average Daily Adult Dosage is 12 Grams. That's a lot of tablets. It is usually prescribed to be taken 4 times each day, six 500mg tablets are taken each time (for a total of 24 tablets a day).
There are small amounts of natural and essential PABA (P-Aminobenzoate) are found in cereal, eggs, milk and meats. Detectable amounts are normally present in human blood, spinal fluid, urine, and sweat.
Potassium aminobenzoate works by causing a softening of skin or tissues when used over time. It also raises oxygen levels in tissues of the body.
In the report by the Peyronie's Disease Study Group of the Andrological Group of the German Urologists, study it removed some plaque from the Peyronies legion, but did not decrease the bending.
Is There A Difference?


Yes, in cost.
The Potaba you buy in the pharmacy costs about $400 per month by prescription. It is usually prescribed for a 12 month period when used on Peyronies Disease. That's about $4800 per year.
You can buy the same potency of P-Aminobenzoate found in Potaba in vitamin supplement form for about $40 per month. Or, just $480 for the entire year.
Is there a difference in the two? Yes, one is categorized as a prescription drug. The other is classified as a vitamin food supplement. They are actually the exact same B vitamin.
Then
Why Does Anyone Use Potaba?


We live in a pill popping society. We want to have a pill or drug to cure everything. So, we look for ways to do everything with a pill or drug.
Unfortunately, more often than not, a pill is not the best answer or even a good or effective answer to our problems.
This is especially true in the case of Peyronies Disease, a bent penis.
Even though it is a B complex vitamin and considered normally very safe to use, the huge therapeutic amount taken can be hard on the human system. That is why it requires a prescription. And, it can cause some very unpleasant and unnecessary side effects.
"Though it may reduce pain,
it will not straighten a bent or curved penis.
Warnings
Before using potassium aminobenzoate, tell your doctor if you are allergic to any drugs, or if you have:
If you have any of these conditions, you may not be able to use potassium aminobenzoate
POTABA may react with some medications.
DO NOT USE IF: you are taking a sulfonamide medicine such as sulfamethoxazole.
Before using potassium aminobenzoate, be sure to tell your doctor if you are using a sulfa antibiotic such as:
If you are using any of these drugs, you may not be able to use potassium aminobenzoate.
Are There possible
Side Effects?


Oh yes.
Potaba may cause loss of appetite or nausea. If you do not eat properly because of these side effects, you may develop low blood sugar (eg, increased heartbeat, increased hunger, weakness, chills, sweating). Contact your doctor if you experience loss of appetite or nausea.
An overdose of potassium aminobenzoate is not likely to cause life-threatening symptoms. But, you may experience low blood sugar.
Symptoms of low blood sugar include hunger, headache, irritability, confusion, weakness, drowsiness, tremors, dizziness, sweating, and/or a fast heartbeat.
If your blood sugar gets too low it can become serious. You may get a seizure (convulsions), faint, or even go into a coma. Severe hypoglycemia can be fatal.
You should seek medical attention right away if any of these SEVERE side effects occur:
Severe allergic reactions (rash; itching; hives; tightness in the chest; difficulty breathing; swelling of the mouth, lips, face, or tongue); nausea; fever; loss of appetite.
You may report side effects from this, or any drug use, to the FDA at 1-800-FDA-1088 (1-800-332-1088) or at https://www.fda.gov/Safety/MedWatch/default.htm
Peyronies Disease


CASE STUDIES with POTABA:


21 patients with Peyronie's disease were placed on POTABA therapy. The time periods ranged from 3 months to 2 years.
Pain disappeared from 16 of 16 cases in which it had been present.
Though the penises were not straightened, there was noticable improvement in penile deformity in 10 of 17 patients, and decrease in the plaque size in 16 out of 21.
The authors suggest that this medication offers no hazard of further scarring and bending that may result from other therapy.
There were no significant negative effects encountered on long-term therapy.
ref:  Zarafonetis, C. J. D., and Horrax, T.M.: Treatment of Peyronie's Disease with POTABA, Journ. of Urology 81:770-772 (June 1959). ref: Horrax, Trudeau M.: Peyronie's Disease, Scientific Exhibit, Amer. Urological Assn. Annl. Meet., New Orleans, May 1965.
The problem is,
the erections in these studies were not straightened. And, the personal cost for this medication is about $4800 per year.
Straightening That Is
Clinically Proven
To Work


If you really want to straighten your erection, a PABA supplement may be a beneficial aid in softening the scar tissue and reducing pain. Even if used in significantly smaller amounts. Just like Vitamin E. But, neither of these will straighten a penile shaft on it's own. The only method clinically proven to straightening a bent penis safely and without surgery is correct penis traction.
And, correct traction has proven effective in virtually every case!
So why spend $4800 for a year's supply of Potaba? When the studies show it won't straighten your erections.
You can, however, get one of the best medically approved penis traction devices in the world for for under $300! And 99.99% of the time, one of these medically approved and doctor recommended traction devices is all you will ever need. Even if you are severely bent!
Clinically Proven:  Correct traction is the only thing that will give you real, safe and permanent results when you are trying to straighten out your bent erections!


Be Well.....
~ William
references:
From: Inflammation and Diseases of Connective Tissue, Edited by Drs. Lewis C. Mills and John H. Moyer, Published by W. B. Saunders Company, Phila. 1961.
Zarafonetis, Chris J. D.: Treatment of Scleroderma, Annals of Int. Med. 50:343-365 (1959).
Zarafonetis, C. J. D., and Horrax, T.M.: Treatment of Peyronie's Disease with POTABA, Journ. of Urology 81:770-772 (June 1959).
Grace. William J., Kennedy, Richard J., Formato, Anthony: Therapy of Scleroderma and Dermatomyositis, N.Y. State J. of Med. 63:140-144, 1963.
Zarafonetis, C. J. D.: Treatment of Localized Forms of Scleroderma, Am. J. Med. Sci. 243:147-158. 1962.
Zarafonetis, Chris J. D.: Antifibrotic Therapy With POTABA, Amer. Jrnl. of Med. Sci. 248: No. 5/551-561 (Nov. 1964).
Horrax, Trudeau M.: Peyronie's Disease, Scientific Exhibit, Amer. Urological Assn. Annl. Meet., New Orleans, May 1965.
Gholami, S.S., Gonzalez-Cadavid, N.F., Lin, C.S., Rajfer, J., and Lue, T.F. Peyronie's disease: a review. J Urol. 2003; 169: 1234–1241

Devine, C.J. Jr., Somers, K.D., Jordan, G.H., and Schlossberg, S.M. Proposal: trauma as the cause of the Peyronie's lesion. J Urol. 1997; 157: 285–290

Gillon, M., Priestley, G.C., and Heyworth, R. Effects of paraaminobenzoate on skin fibroblasts from lichen sclerosis et atrophicus and morphea. Br J Dermatol. 1987; 117: 445

Griffiths, M.R. and Priestley, G.C. A comparison of morphea and lichen sclerosis et straphicus in vitro. Acta Derm Veneral. 1992; 72: 15–18

Carson, C.C. Potassium paraaminobenzoate for the treatment of Peyronie's disease: is it effective?. Tech Urol. 1997; 3: 135–139

Gelbard, M.K., Dorey, F., and James, K. The natural history of Peyronie's disease. J Urol. 1990; 144: 1376–1379

Mynderse, L.A. and Monga, M. Oral therapy for Peyronie's disease. Int J Impotence Res. 2002; 14: 340–344

Weidner, W., Schroeder-Printzen, I., Weiske, W.H., and Vosshenrich, R. Sexual dysfunction in Peyronie's disease: an analysis of 222 patients without previous local plaque therapy. J Urol. 1995; 157: 325–328