Can Jelqing
Fix A Bent Penis?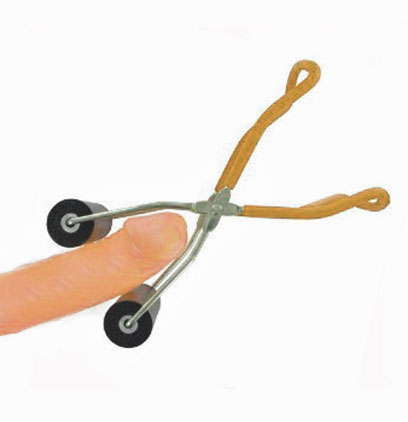 jelqing with a device

Can Jelqing
Straighten A Bent Penis?


I have been asked this question many times.
Yes, Jelqing can be used to help straighten your erections. But it is very risky if you suffer from a bent penis due to Peyronies Disease (scarring or plaque formation inside the shaft).
If you jelq with a Peyronies bend, you are risking even more permanent serious damage to your cock.
Why?
The reason for this is: you are going to be attempting to pull on only the shortened tissue(s).
That theory is simple and good.
The cold harsh reality is that unless you are skilled at this (and who is?) you are probably going to cause some uneven stretching in surrounding areas and curve your shaft off in yet another direction. Or, in multiple directions.
What Exactly Is
Jelqing?


First, for those of you who are not familiar with what "jelqing" (also spelled "jelking") is, let me explain.
It consists of various types of stretches done manually (by hand). It dates back thousands of years in history and was done to make a cock longer.
Supposedly it originated in Sudanese Arab culture. Those who tell this story claim it gave men 10" cocks. (Yeah. Right. If it did we'd all be doing it!)
But, many others say that story was invented when manufactures of jelqing devices were trying to make the process seem mysterious so men would think they found "the secret" and buy the products.
The original exercises were all done by hand.
The techniques or "Exercises" may differ slightly. But, they all work on the same concept.

Jelqing exercises are simply different methods of manually stretching your cock by pulling on it. The stretching "exercises" can be effectively used to lengthen and thicken. If you have the time and patience.
A Risky Business!


As you learned, the biggest problem when you jelq a bent penis is the chance that you will cause another bend in another direction. Or directions!
It is far too difficult to apply a stretch to only the shortened area(s) by hand.
But, it is extremely simple to do that with a high quality traction device. I will explain traction devices a little further on in this article.
Another danger with these exercises is the risk of serious penile damage!
When you jelq too hard you risk:


Bleeding from the urethra (the tube through which your urine leaves your body)

Sexual Dysfunction (from the nerve damage)
Erectile Dysfunction (Impotence)
A deformed dick (from uneven stretching)
Permanent discoloration at the tip of your shaft (from burst blood vessels)
Loss of sensation (causing inability to orgasm)



Nice, huh?
Still sound like something you want to try?
Straightening a Bent Penis is Easy
if
You Do It Correctly


So what do you do?
Remember the traction devices I mentioned earlier?
Dr. Jorn Ege Siana M.D. (a penile surgery specialist and a director and founder of the Scandinavian Clinic of Plastic Surgery in Denmark and Germany) developed the penile traction device in 1994.
Dr. Siana's device has now been clinically proven to be the best and safest method for straightening a bent penis.
Unlike jelqing exercises, Dr. Siana's traction device can stretch the short tissues in your shaft safely and evenly.
A high quality device designed like his is now sold by  Quick Extender Pro. These are the very best traction devices in the world. I have found all the others to be inferior. And there are about 23 different ones out on the market now. "These Quick Extender Pro devices are the most comfortable" (68% of my readers).


These penis stretching devices are:
 -  Made of medical grade materials
 -  Medically approved, and physician recommended in 29 countries worldwide
Why Correct Traction
Works Best


The only method clinically proven to be safe and effective for straightening a bent or curved penis correctly and evenly is correct traction.
Unlike jelqing exercises, correct traction can gently and painlessly lengthen only the shorter tissues in the shaft. This gives you an even and balanced straightening.
With correct traction you don't risk constantly bursting the capillaries in the crown of your shaft the way jelqing does.
And with the traction method you don't have to put aside an hour or so a day to get slow and risky results.
A traction device works for you all day long while you go about your normal activities. And no one even knows you're wearing one!
This kind of traction is :


Safe (when used as directed)
Medically approved in 29 countries
460% more effective than jelqing!
Cautions And Warnings


The only thing you really need to be concerned with when using one of these traction devices is that you get one you can depend on. The two I mentioned are the best I have ever found and you can get either one for under $300.
Dr. Siana's device is so effective that is currently being copied by 14 other manufactures.
The problem with the copies is that they are all designed to sell for less. The only way to do that is to cut corners on materials, quality controls, and workmanship.
These cheap copies look very much like the original device. But, I have found they are not as strong and often not very safe. Sometimes they are outright dangerous! You may seriously injure yourself if one malfunctions or breaks while on your cock.
These cheap copies are only going to save you about $100 over the best units. So what's the point of getting one?
And one of the other higher priced ones jammed up on me completely after 2 months.
I have researched and studied every penis traction device out there. Only the two brands I mentioned above met all of my personal requirements for safety, performance, and comfort. And they both come with a six month guarantee of results!
Those of you who have read my websites know I refer very few products. And I only refer the best there is. These are without doubt, the two best penis traction units in the world!
Conclusions


Can jelqing straighten a bent penis?
Yes, it is possible to make a bent penis straighter with jelqing exercises if you are very skilled at it. But, the time commitment is huge and the risks of bending you cock in another direction are just not worth it.
If you are seriously seeking a solution to your bent penis problem, high quality traction has been clinically proven to be the Safest, Most Effective, medically approved and recommended method available.


Be Well.....
~ William