Penis Plastic Surgery

May Destroy Your sex life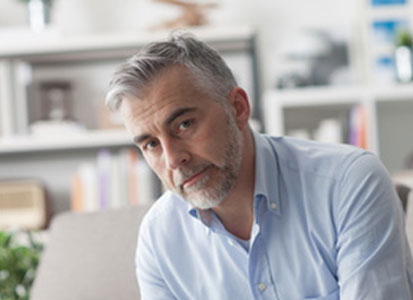 Penis plastic surgery has it's place.
If your cock was injured in say: a farm accident, an auto accident, or some other accident, a good penis plastic surgeon (reconstructive surgeon) could really help put you back together.
He may even be able to get you back into good enough shape for a normal sex life.
But, there are too many times when men rush foolishly into unnecessary surgeries and then suffer needlessly for it.
Penis Plastic Surgery
Always Comes With Serious Risks


"Penis plastic surgery is ALWAYS a serious risk."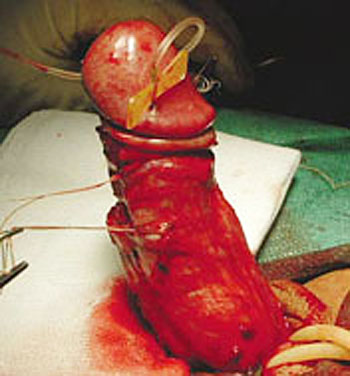 Penis plastic surgery is always more of a risk than any other cosmetic surgery because your cock requires a high degree of sensation to perform properly.
When someone has a face lift, for example, their face usually becomes numb in many areas. And it can stay that way for five years or more. I'll bet you didn't know that!
In your face, numbness may just be a strange or discomforting experience. Numbness in your cock can destroy your sexual life!
What Are The Risks?


Every time you cut skin or any bodily tissue, nerves are cut. And nerves are very slow to mend. Much slower than blood vessels.
There are many possible risks that come with penis plastic surgery. These include, but are not limited to:


A shorter cock (this is always part of the surgical straightening operation: the Nesbit procedure )
Inability to achieve or maintain an orgasm
Damage to the urethra (the tube that carries semen and urine out of the body)
Scarring (which could another bend in the penis later on)
Greatly reduced sensation
The possible side effects will usually be mentioned to you by your surgeon. If you decide on this procedure, you will, in fact, have to sign a waiver acknowledging the many possible serious risks.
And don't think for a moment these are one in a million chances. They are more common than we would like to believe.
Three Different reasons
for
Penis Plastic Surgery


Now, the most common reason a man has a penis plastic surgery is to fix a bent penis (due to Peyronies Disease ), or to enlarge his cock.
Surgery is the MOST DANGEROUS and LEAST EFFECTIVE way to do these things!
What good is a straighter dick that is shorter? Or impotent? Or one that is thicker but unable to achieve or maintain an erection? Or one that is unable to achieve an orgasm?
These are all possible side effects of penis plastic surgery! Do they happen to everyone? No. Of course not. But, they are unnecessary consequences that have unnecessarily happened to too many men.
A Bent Penis:
In the case of a bent penis, using penis plastic surgery to straighten the shaft is sometimes necessary to return to a normal sex life. Before 1994, penis plastic surgery was often the only option for many of these men. Today this is rare.
Today, 99.999% of the time a bent penis can be safely and effectively straightened with simple correct penis traction.


A Wider Penis:
You can make a dick wider or thicker with penis plastic surgery.
This is done by injecting or implanting your own fat or a purified animal substance inside the shaft.
These procedures can result in a lumpy malformed looking cock as time goes on and the material shifts or starts to dissolve.
A Longer Dick:
Penis plastic surgery can make a limp penis appear longer. It does this by cutting the ligament that hold a portion of the shaft inside the body prior to erection.
The shaft is still the same length after this surgery, but more of it then hangs outside of the body.
When erect, however, the length will be the same size. Unfortunately, with the ligament cut, the erection will point out or down (instead of up) and it will flop around. Real natural, huh? That will scare your girl off.
A longer erection is not possible with any penis plastic surgery.
It is impossible to surgically make a cock longer
without creating impotence.


Why do Men Risk Impotence?


There are many reasons men risk the horrible possible side effects of penile cosmetic surgery:


   - They are not educated on, or really aware how serious the risks are
   - They think it "Probably won't happen to me."
   - They don't know there is usually a much better, much safer way of achieving their desired goal

   - In the case of penile enlargement, they are so incredibly insecure with their masculinity that they are willing to risk anything
Sexual Insecurity
and
Self Esteem


This is where self esteem has to be questioned.
There is nothing wrong with wanting a bigger dick. There is a problem, however, if a man with a normal one feels he "needs" a bigger one to be more of a man.
In these cases there is often a huge sexual insecurity that would be much better handled by a psychologist then by a surgeon.
Is There Such a Thing As:
Safe Straightening
and
Safe Enlargement?


Yes. There definitely is.
The entire message of this page is simply this:
99.999% of the time, there is a better way!
A Safe Way!
A much more effective way!
The way is with a clinically proven medically endorsed and recommended method called correct penile traction.
What Is
Correct Penile Traction?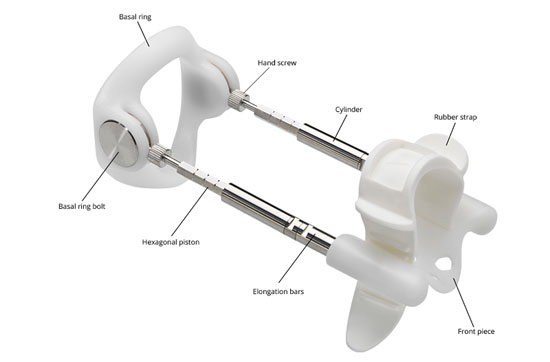 This traction device was developed by Dr. Jorn Ege Siana, M.D. in 1994.
Dr. Siana is a director and founder of the Scandinavian Clinic of Plastic Surgery in Denmark and Germany. He is a penis surgery specialist
He originally developed his traction device to keep a man's shaft straight during the healing process after penis plastic surgery or reconstructive surgery.
Soon, Dr. Siana found the device could actually be used instead of surgery for straightening a man's bent penis .

And he also learned that the device was so effective in elongating penile tissues that it could be used to enlarge a cock in both length and width.
It could actually add as much as an inch and a half in length. And it makes the penis wider in the process!
The Safest And Most Effective Method
for
Straightening or Enlargement


Today, correct traction is considered to be the:
Safest and Most Effective
method for both straightening a bent penis and for enlarging one as well.


Correct traction is so good that it is now medically recommended and endorsed in 29 countries, including: Germany • Belgium • Holland • Denmark • Brazil • Sweden • Taiwan • Thailand • Uruguay •United Kingdom • Switzerland • Portugal • Argentina • Japan • Canada • Philippines • France • USA • Serbia • Luxembourg • Venezuela • Italy • Chile • Norway • Australia • Andorra • Mexico • Malaysia • Tunisia
One CAUTION:
Since correct traction can do such remarkable things, there are now a number of companies manufacturing "copy cat" traction devices and selling them as sexual enhancement devices.
In fact, men use traction devices 26 to 1 for penis enlargement as opposed to penis straightening.
The problem with many of these devices is that they are designed for a quick sale to men who are seeking an ego boost.
And many of these devices are made of inferior materials with inferior construction. They look very much like the high quality devices. But, they are not the same.
Some have caused serve damage to men's penises.
The saddest part is: The inferior devices only cost about $100 - $125 less than the best devices in the world. Why would any man intentionally risk permanent damage to his dick to save $100?
My Research Found
These Device are The  Best


There are currently 23 different penis traction devices on the market. I have researched them all.
Only two have met all of my personal requirements for safety, effectiveness and guarantee. These two units are the Quick Extender Pro and the Pro Extender units.
Both of these units are excellent and made from the original design. They are both:


Physician recommended and endorsed
Classified: Class 1 Medical Devices
Made from the finest Medical Grade Materials
And both of these units come with a 6 month money back guarantee.
Pro Extender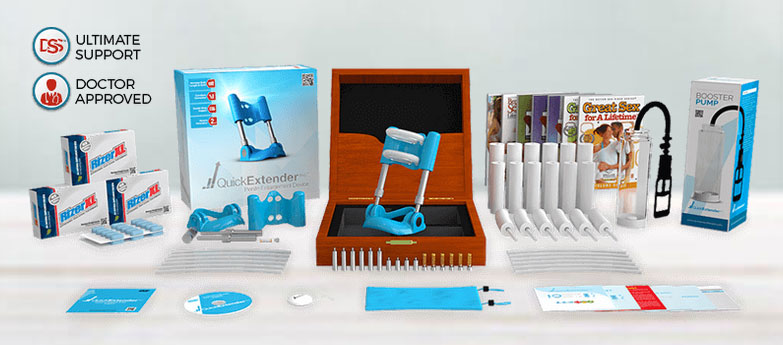 Quick Extender Pro
Conclusions


For some men, penis plastic surgery is the only option. But, this is a very small number of men.
For 99.999% of men with a bent penis caused by Peyronies disease, correct traction has been clinically proven to be much safer, and also, more effective than penis plastic surgery.
For men who desire a longer erection, for whatever reason, there is no penis plastic surgery available. Only surgical widening is possible. And that can have disastrous results.

For lengthening a penis , correct penis traction is the only medically approved method, clinically proven to give safe and significantly measurable results.

Be Well.....
~ William