Will You
Increase Penis Size Naturally
when
Using Penis Traction?



Yes, you can definitely increase penis size naturally, using traction.


But, no, your size will not increase until your shaft is straightened.
"Will Straightening
Make My Cock Bigger?"


Because penis traction devices are most commonly marketed as enlargers, or, extenders for "male enhancement", a lot of men are wondering if their cock will get bigger while they are straightening their bent penis.

The answer to that is no. Not until after it decently straightened.

The reason for this is:

The traction device pulls your entire shaft in a straight line.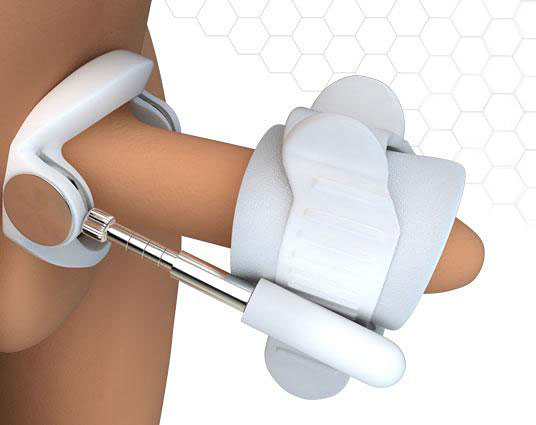 the modern penis traction device
Because you have some hardened tissue on one or more of your erectile chambers, when the pulling begins, just like when you get an erection now, that harder tissue does not expand like the normal tissue. It will get the pull first.

And, that is exactly how and why the straightening results.

The device keeps stretching only the shorter hard tissue until that shorter hard tissue is stretching as much as the normal tissue.

Once that happens, ALL the tissue will receive the pulling. At that point, if you continue with the traction process, you will begin to increase penis size naturally, with the repeated regular measured tension.
Correct Traction
can
Increase Penis Size Naturally
Only If You Start With Straight Erections


If you are trying to increase penis size naturally, with a traction device, you're going to have to start with a shaft that is getting decently straight erections.

If you have a very mild bend to start with, you can increase penis size naturally right from the start.
If your bend is considerable, you will see your erections straightening before you see them growing.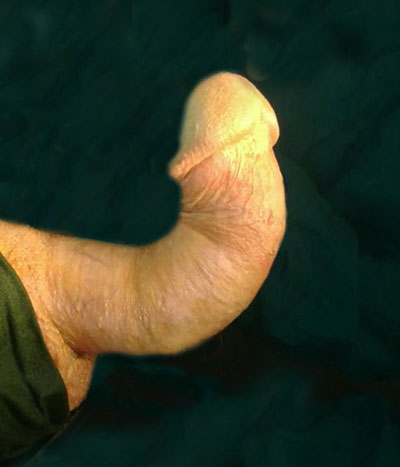 severe Peyronies bending must be straightened first
It's just the way the process works.
Don't Be Fooled
by
The Name



"Traction devices

are

The Safest AND Most Effective

way to straighten a bent or curved penis."
Why do most of the advertisements label them as male enhancement devices, ie: penis enlargers?

The reason is:

There are about 20 times as many young men who want a bigger cock as there are middle age men wanting to straighten out a bent penis caused by Peyronies disease, or, any other reason.

Does the "male enhancement" advertising make sense now?


Here's a little history:

The traction device was actually first used in 1994 to keep a man's shaft straight after penile surgery.

The inventor of the device, Dr. Jorn Ege Siana, soon found he could straighten a bent penis without surgery by just using the device alone. This was a Major medical breakthrough in penile straightening.

The method is so successful that using the device is now considered the Safest and Most Effective penis straightening method in the world. Yes, in the world.

Later, by continued use, Dr. Siana found the device could actually cause permanent new growth in the penis. He could increase penis size naturally. Length and some width.

Needless to say, the device became an immediate success.

But, make no mistake:
"A high quality traction device

is

the #1 method for penis straightening

available in the world today."
The device is also medically endorsed and recommended in 29 countries worldwide.
"

Can I Straighten A Bent Penis
and
Not Increase Penis Size?



Yes, definitely.

As you just learned, the straightening has to happen first. There's no way around that.

But, is there any man who does not want a bigger cock??

Yes, believe it or not. I think most men are satisfied with what they have. And, there are some men who are just too big to start with. Yes, too big.

If you are one of these men, you'll be happy to know that, yes, you can straighten your erections without making them bigger. Just don't continue with the process once you are satisfactorily straight.
When Enlargement
is
Undesirable


For those of you men who are starting with a more than sizable cock, enlargement may not be desirable at all.

If you're already a little too big for you partner, getting bigger may be frightening. Right? And, you could cause your partner pain, and even harm.

Rest assured:  If you're this big and you're bending severely, yes, 99.99% of the time you can straighten your shaft out, just like anyone else, with correct traction. And, you can do this without gaining any more size.

Remember:  Straightening has to happen before enlargement is possible.
The Enlargement Results
are
Permanent


Any enlargement you might get from correct traction is permanent. Please remember that. You won't be able to reverse it later on if you think you have gotten too big.

Yes, I know. Too big?? For most of us there seems to be no such thing as too big. But take a look at these two fellows who are not even erect yet: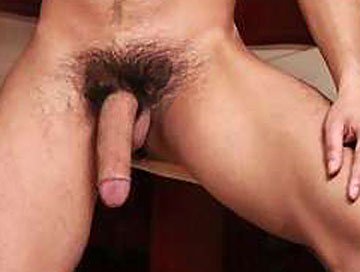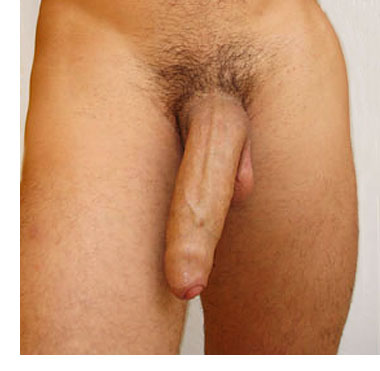 A lot of women will be too scared of these guys to even try. I mean those men could tear most women apart inside and literally kill a woman if they were not careful with those weapons.
How Much Size
is
Too Much?


That's a personal question.

Do you know the average penis size is just 5.2 inches in length and 4.6 inches in circumference?

That's enough to please almost any woman.

Yes, we all think the averages more like 6+ inches. Right? Most of us go through high school wondering if we are smaller than average. That's because so many boys and men LIE about their size.

Even 4 inches can be very effective if you know how to use it. And, more importantly, if you learn (yes learn) to be a good lover.

But, at just over 5 inches, you're as big as most men. If that's you, you don't need a bigger cock. But, if you want one, that's just fine. And, now you know how to get one in the Safest possible way.
Monster Cocks


As a kid, I had 2 friends with monster cocks. One was a real 8.5 inches the other 8 inches and that one was as thick as his arm! We were only 12 years old.

I thought I was tiny by comparison. Maybe too tiny. Fortunately, after gym class in the showers, most other boys were also normal size. Otherwise, I might have been very concerned.

Nick names for those huge guys, like "horse cock", were common.

But, do women really want all that?

Some do.

However: From the women I've surveyed, most get scared even by the thought.
Is It OK
to
Increase Penis Size Naturally?


Yes. If you want to.

Why not?

If you really want to increase penis size naturally, you can. And, there's nothing wrong with it.

It's no different than any other cosmetic alteration. Like a nose job, hair color, collagen in your lips to puff them out (women like to do this one), etc… And, you can increase penis size safely, naturally, privately, all by yourself.

If it makes you happy, and you want to increase penis size naturally, there's nothing wrong with it.

Just be sure to do it safely.
What About Other Ways
to
Increase Penis Size Naturally?


There are many natural methods. They ALL involve penis stretching in different ways.

To increase penis size naturally, all you have to do is stretch your shaft hard enough over and over again for months on end. That's all it takes.

How you do this stretching will determine your results and your risk of injury.

If you don't pull hard enough. Nothing will happen.

If you pull too hard, you can damage your shaft severely and permanently. And, it is very easy to over pull. Your shaft is more delicate than you probably imagine. And, over pulling doesn't always hurt while you are doing it.
Most Methods
are
Dangerous


"Most penis stretching, lengthening, and enlarging
programs and devices

are
very dangerous."
Why?

Because, as you just learned, your shaft is more delicate than it seems. Most of these devices and "exercise" give you no way to measure how much tension you apply to your shaft.

So, it is very possible to over pull your shaft and not even know you are doing this until the damage is already done.
Why Is Correct Traction

Safest AND Most Effective?


Correct traction with a high quality device is different from other stretching methods used to increase penis size naturally because the pull is gentle enough to be safe, and, strong enough to be effective.

You're not yanking on your shaft indiscriminately.

Instead, a firm measured mild pull is exerted on your shaft for about 6 hours each day. This is enough to cause the necessary stretching to increase penis size naturally without over pulling and causing possibly serious injury.
Achieving Your Goals


Penis Straightening:

 -  There are only two medically endorsed and recommended methods that have proven truly effective for straightening a bent penis. Surgery and Correct Traction.

 -  Correct traction, with a high quality device, has proven to be the Safest and Most Effective method available in the world today.

 -  Yes, correct penis traction is medically endorsed and recommended.

 -  Correct traction is very inexpensive. For under $300 you can purchase one of the best devices in the world. (Compare that to a straightening surgery that can run you $8,000 - $19,000).

 -  With correct traction you can straighten a bent penis 99.99% of the time.


Penis Enlargement, "Male Enhancement":

Some form of traction (penis stretching) is the only method that can increase penis size naturally. That is: Make your erection grow permanently bigger. Both in length and width.

 -  With correct traction, and a normally straight erection to begin with, you can increase penis size naturally.

 -  Surgery can straighten a bent penis, BUT, it can not lengthen an erection. Well, not more than about 1/4 of an inch. Surgery is only effective at widening.
Choosing
a
Traction Device


If you are wanting to increase penis size naturally with a traction device, choosing a device is probably the hardest part of the whole decision you will be making.

Why?

Because, by my last count, there are 23 different devices advertised out there right now.

AND:  They all look pretty much alike.

Some are $400. Some are $89. And, there are a whole lot between those two prices.

The difference is:  Materials and workmanship. A few of the devices are excellent. Some are OK. And, some others are down right dangerous to use.

Sure, in the very professional photos the ads display, they all look alike.
But, if you choose a device that breaks while you are wearing it, it could puncture your shaft and cause permanent, possibly irreparable damage. Is that worth a $100 savings? Of course not.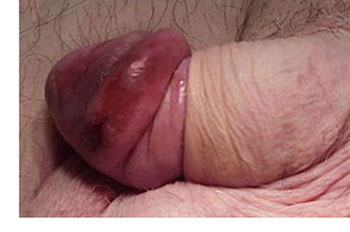 Or, you may strangle the tip of your shaft, break blood vessels, and cause possible permanent nerve damage. Again, is that risk worth a $100 savings?
What Did I Find Best?


Unfortunately, there are only two manufacturers that make devices which meet all of my personal requirement for Safety AND Effectiveness.

These are the devices made by X4 Labs and Quick Extender Pro.

You don't need both. Either one will increase penis size naturally or straighten a bent penis in the safest and most effective way.

They both also come with a money back guarantee if you don't get results.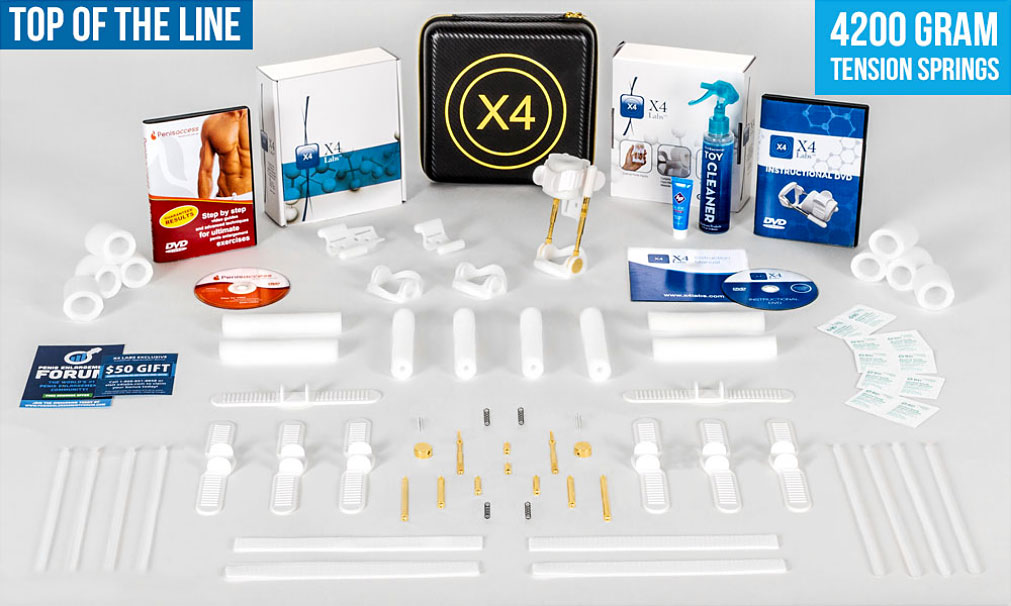 x4 Labs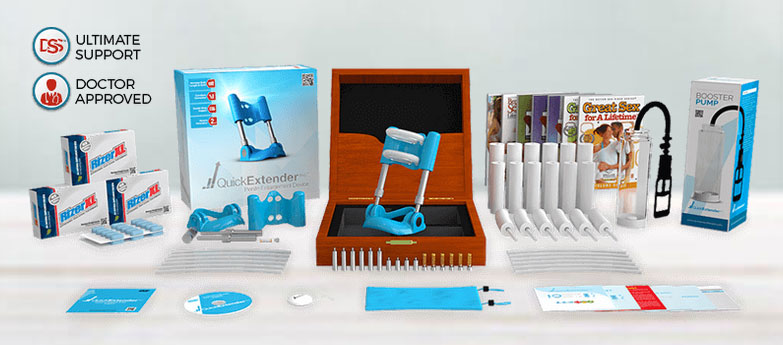 Quick Extender Pro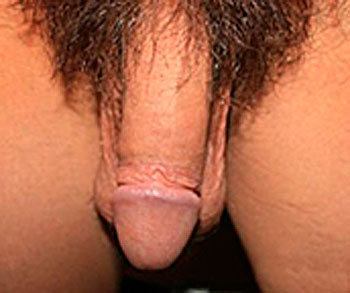 before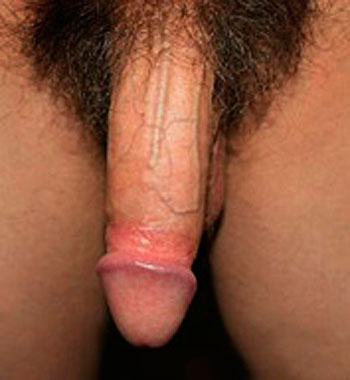 after
Increase Penis Size Naturally
and
Safely


If it is your goal to increase penis size naturally, please, just do it Safely.

And, the fact is: Correct traction is the Safest and Most Effective method to increase penis size naturally and permanently.

Leave the dangerous gadgets, "exercises", useless pills and creams, and "overnight results" methods alone. They can hurt you seriously.


Be Well…..

~ William