A Fear of Sex and Impotence
Can be
Caused by a Bent Penis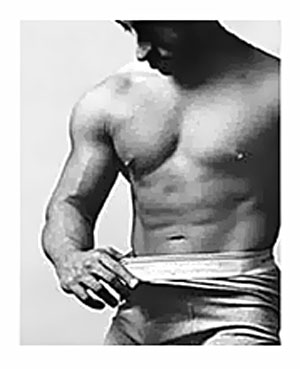 When we develop a bent penis, we may easily develop a fear of sex. It's happened to a LOT of us!
The embarrassment and physical pain our bending may cause can be traumatic and devastating to our mental state and emotional well being.
This embarrassment and pain can lead to what is known as psychologically induced impotence. And, it's no joke.
The 3 Problems That Lead To Impotence
and
the Fear of Sex
There are three basic things that cause fear of sex when we develop this bending:
The distorted shape of our erections
The pain of our bent erection
The pain our bending can cause our sexual partner
Let's take a look at each one of these individually.


1) The Distorted Shape of our Erection:
None of us want to look abnormal. And EVERYONE over 12 years of age has an idea of what an erection should look like.
A great big bend here is going to catch the attention of our sexual partner immediately.
If we're already in a relationship when the bending starts we're luckier. A sympathetic partner will help us through the condition until it is fixed.
But, for a single guy who's just met a new potential partner or life mate, having a severe bend here can cause huge embarrassment, insecurity, and difficulty in the bedroom.
This embarrassment and inhibition can cause a real problem. This fear of sex can diminish our ability to attain an erection, or maintain an erection.
This is a form of psychological impotence. But, psychological impotence can make us just as impotent as any other type of impotence.


2) The pain of our bent erection:
When the scar and/or plaque that cause our erection to bend reaches a certain thickness, it can make getting an erection very painful.
None of us likes pain. In fact, our body has a genetic survival mechanism that tells it to avoid pain.
"If your erections are now producing more and more pain, your body is going to develop a fear of sex. It is going to tell itself to stop producing erections in order to avoid pain. This is a natural physical reaction."
3) The pain a bent penis can cause the sexual partner:
When you care about your sexual partner you don't want to cause them pain.
I'm not talking about a fun foreplay spanking (for those that are so inclined). I'm talking about serious possibly injurious internal pain.
A seriously bending erection can cause a lot of pain and possible damage to the vaginal wall. Then both partners may develop a fear of sex.
And refraining from sex indefinitely can cause serious emotional difficulties for both partners. This fear of sex can make us feel emasculated. This can also cause psychological impotence.
Avoiding Catastrophe


In an attempt to remedy the bending that is making him so upset, an uninformed man may panic and resort to all sorts of dangerous unnecessary remedies.
These include:
"99.999% of the time:
NONE of these things are necessary to fix a bent penisand enjoy normal sex again."
None of them. But, wanting to return to a normal sex life and wanting to be free of our fear of sex makes some many of us rush into these things.
Please do not!

These remedies come with the risk of serious complications including, but not limited to:
* A shorter penis (this is definite part of the surgical straightening operation)
* Impotence
* Inability to achieve an orgasm
* Lack of sensation
* Damage to the urethra (tube that carries urine and semen from the body)
* Scarring (which could bend the penis in another direction later on)
* Infection


And if we start using erectile dysfunction drugs, we also may risk:
* Blindness
* Heart attack
* Stroke


All of this has been clinically proven to be unnecessary!
The Straightening Method

Clinically P
roven Safest
Developing a bent penis is a traumatic experience for any of us. But, once we understand what Peyronies disease really is, the panic stops.
99.999% of the time, it is very easy to fix our condition with simple correct traction.

Correct traction has been clinically proven over and over again to be:
method for straightening penile bending caused by Peyronies disease (or any other condition) 99.999% of the time.


Correct traction is both:
in 29 countries worldwide!


"Once we learn how easy it is to straighten the bending with correct traction, and we straighten the bend, our fear of sexual activity soon vanishes. Like magic! And, so does our psychologically induced impotence."


It's amazing how true that is!


Choosing Wisely


Correct penile traction is a simple process. But, it is extremely important to choose a high quality traction device.I can not stress this enough.

Poor quality devices can cause serious permanent injury to your cock.
There are currently 23 different traction straightening devices available on the market.
I have researched them all.
Only two of these units met all of my person requirements for safety and effectiveness. These are the Quick Extender Pro units and the Pro Extender units.
Both units are:
Made of the best Medical Grade Materials
Classified as Class 1 Medical Devices
Have the "CE" seal. This is a stamp of safety given to medical devices by European Health Authorities.
A Happy Healthy Future!


If penile bending caused by Peyronies disease has caused you to develop a fear of sex or sexual activity, don't despair!
As you learned: 99.999% of the time a bent penis is very easy to fix with correct traction.
Once we see and feel our cock straightening and getting back to normal, the emotional and psychological problems that came with our bending erections, and the fear of sex, usually vanish like magic!


Be Well.....
~ William